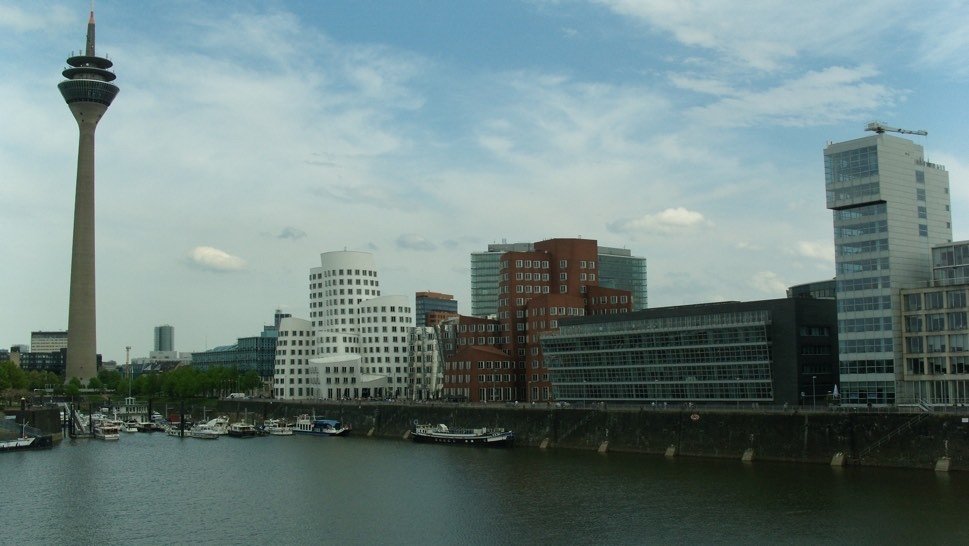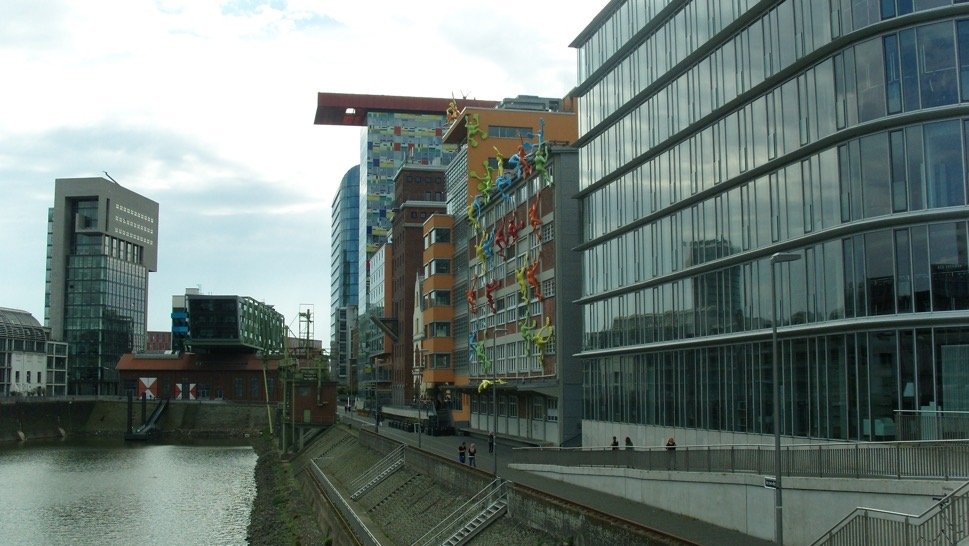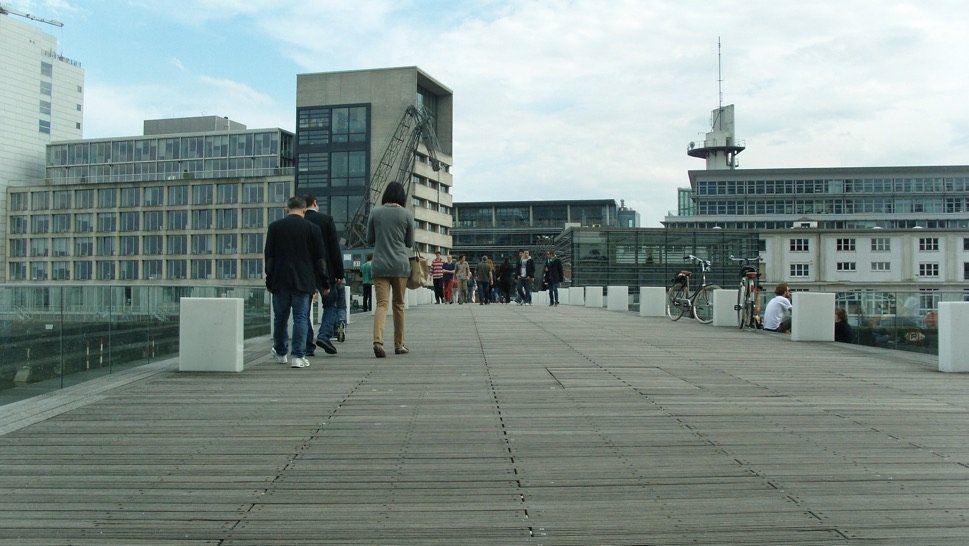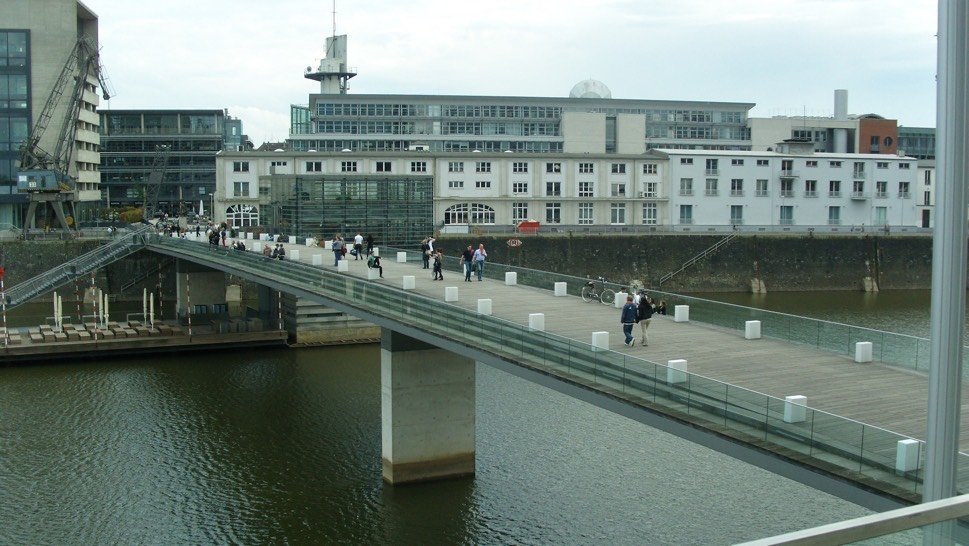 Across the globe, dilapidated and disused harbours have been redeveloped, so too in Düsseldorf. The source of much controversy partly due to strict German zoning laws, the area of the commercial inland harbour closest to the city has been transformed into the so-called Media Harbour, Medienhafen.
Most traditional commercial structures were demolished with just a few having been progressively renovated, extended and adapted to modern use. While many residents protested against old buildings being torn down, new structures were being erected in a rather eclectic and haphazard way to reveal a modern and lively space wrapped around the waterline.
Diverse businesses interspersed with an increasing number of residential buildings have relocated to these properties. Neighbouring architecture has also been renovated and upgraded along with the economic pull of redevelopment. The harbour has become home to several tv, media and advertising companies. The area also offers a blend of fashionable upscale restaurants, bistros and clubs as well as hotels.
This vibrant gastronomic landscape adds to the attraction of the harbour's creative atmosphere. Modern, upscale hotels ensure a continuous influx of guests while many more tourists flock to view the reminders of days of old, such as rail tracks, cranes, walls and warehouse remnants.
The most popular sight in the harbour is Frank O Gehry's architectural offering. Three characteristic yet contrasting premises of stainless steel, red brick and white facia reveal his typical broken geometry.
By Philipp Schiwek, Jul 16 2013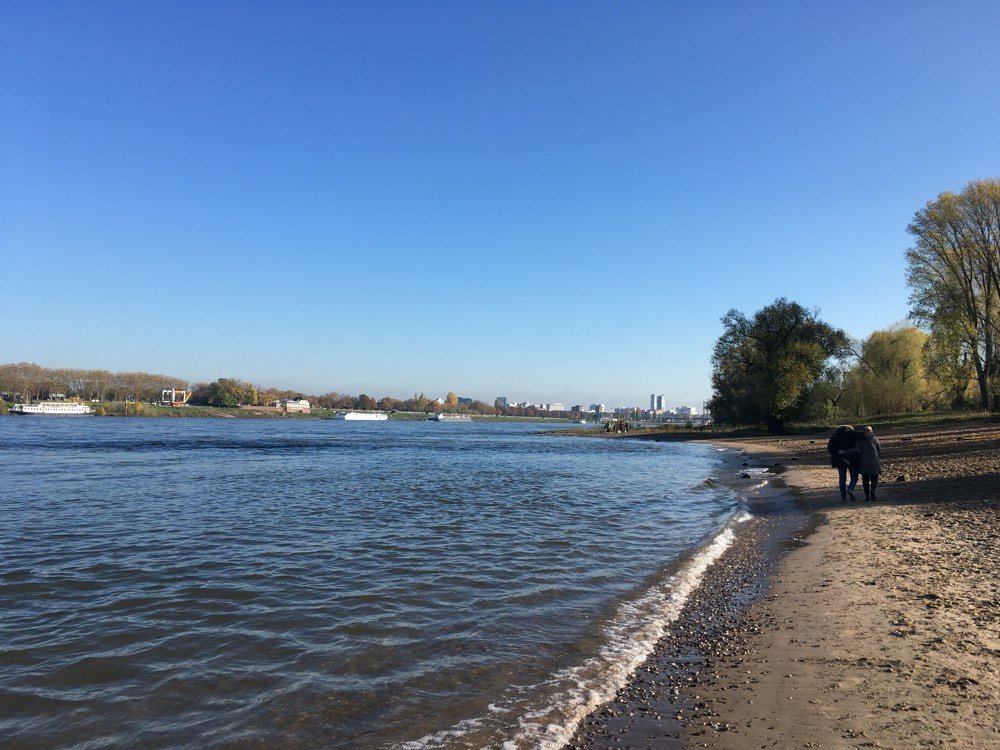 A great way to get to know Düsseldorf is to take an inspiring and rewarding walk, allow impressions to cause a pause, interact and allow details to remain more memorable. Admiring quaint side streets, strolling the promenade, the riverside or numerous woodlands bring joy to the soul.